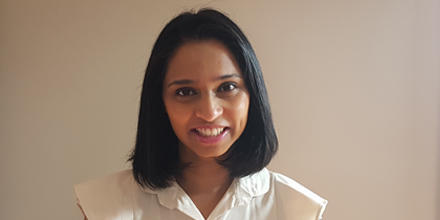 Ayeshi Wellalage (LLM)
Why did you choose ANU?
I was particularly drawn to the idea of having the flexibility to undertake my studies when and how I wanted to at ANU Law. I knew I required this flexibility as I was working full-time and had other commitments. It also meant that when I was studying, I was able to focus and concentrate on one subject at a time, or in some cases two, enabling me to thoroughly learn and explore the subject.

Why did you choose to study law?
It was to further develop my understanding of law and knowledge in areas that interested me. I felt that the way in which the subjects were made available, the need to finish my degree within a certain period and the requirement to study 'core' subjects, meant that I finished my undergraduate studies feeling like I had missed out on learning about some other very interesting areas of law. A Master of Laws at ANU was the next logical step for me.

What are your most memorable experiences at ANU Law?
I met my fellow students, heard about their differing experiences and cultivated my professional network at ANU Law. On graduation day, I reflected on the journey I had taken and I felt pride in my accomplishments and gratitude for the people who had supported me along the way.

What are your next steps, planned or aspired, after graduation?
I plan to continue to work at the Commonwealth Attorney‑General's Department, where I also worked during my studies. I completed my studies part-time and was fortunate to have been supported by the department to undertake these studies in working full-time.

What advice would you give future ANU Law students?
Engage with your degree. Choose subjects you are interested in. Give yourself the time and space to undertake the subjects, which can be intense and time-consuming. And take away your credit card! Online shopping can be too tempting when you are spending your weekend studying.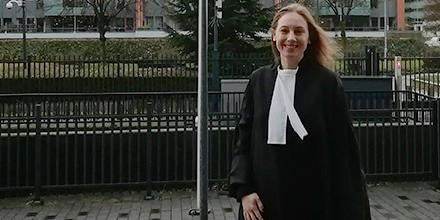 Jane McCosker (MIntLDip)
Your current role:
Lawyer at an international criminal tribunal in The Hague, The Special Tribunal for Lebanon.
What motivated you to study the Master of Diplomacy/Master of Laws (International Law), and why did you choose ANU?
After practising in litigation and human rights for several years, I was keen to enhance my credentials in international law. I learned about the possibility of completing a Master of Diplomacy along with the Master of Laws (International Law) at ANU when I began to research international law Master's programs around Australia. Diplomacy seemed to me to be a natural complement to international law, so I decided to pursue this option. I chose ANU because of its good reputation and because its LLM course format allowed me to complete my subjects without being based full-time in Canberra.
What are the program's key strengths?
The expertise of the lecturers in their subject-matter, in both the Diplomacy Masters and the LLM, and the range of subjects offered in the LLM. These features allowed me to develop a deep knowledge of the fields of international law that are of most interest to me, in which I wished to – and now do – work after obtaining the degrees.
What was your favourite course in the program and why?
I enjoyed every course in both the Master of Diplomacy and Master of Laws (International Law). But particular highlights included Sarah Heathcote's Advanced Principles of International Law Course for its precise, thorough analysis of fundamental concepts, and both Rob McLaughlin's International Law and Peacekeeping Operations course and Jeremy Farrall's Case Studies in Diplomacy course, for their applied, practitioner-oriented approach.
Are there any particular skills, experiences, or knowledge you gained over the course of your program? If so, what were they?
Two examples, of many, are the negotiation skills I gained from the Master of Diplomacy course on that subject and the skills I gained from both degrees in researching international sources – from UN Security Council resolutions and human rights reports, to more obscure and non-binding documents. These skills stand you in very good stead in practice, when you are asked to negotiate a treaty or to provide urgent advice on an international issue, or instrument, that you've never worked on before!
How has your degree led to overseas opportunities?
I have worked in internationally-focused jobs ever since obtaining the degrees, including in the Australian Government's Office of International Law, and now work as a senior lawyer (Legal Officer P4) at an international criminal tribunal in The Hague. In this position, I advise and assist the Trial Chamber Judges of the Special Tribunal for Lebanon in their work on the Tribunal's main case, Prosecutor v. Ayyash, Merhi, Oneissi and Sabra. This case centres upon a large-scale terrorist attack in Lebanon and involves applying both international and Lebanese law.
How has your degree been supported your career ambitions?
Having this degree, and the high marks I earned in it, were instrumental to my obtaining my current position in an international criminal tribunal. I have used the expertise I gained in the degree on a daily basis in this job, as well as in my previous positions advising the Australian Government on issues of international law.
Why do you think it is important to study international law and diplomacy in the current global climate?
Combined international law and diplomacy studies give you a strong understanding of the frameworks and institutions in which international activity occurs. This is of obvious utility in an increasingly globalised world.
I also think that for those of us with a particular interest in strengthening human rights protection and accountability worldwide, the better we understand both the legal and the diplomatic dimensions of situations in which serious violations of international law occur, the more effectively we can advocate for positive change.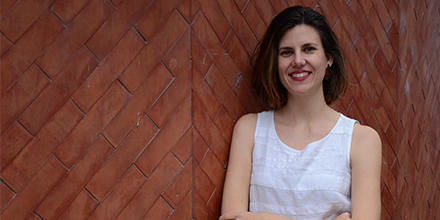 Sally O'Donnell (LLM)
What does it mean to you to be a Yuill Scholar and ICJ Judicial Fellow?
I'm pleased to be awarded the Yuill Scholarship, which will give me the opportunity to work in The Hague on cutting-edge issues of international law, and meet other Judicial Fellows from universities around the world. The ICJ hears cases on a wide range of international issues that have important consequences on the global stage – everything from border disputes and the financing of terrorism, through to nuclear disarmament and whaling in the Antarctic – and I'm looking forward to attending public hearings and contributing to the work of the Court behind-the-scenes.
What sparked your interest in international law and how did your ANU studies foster your passion in this field?
I have always been interested in international affairs, and international law was my favourite subject in my undergraduate degree. Studying at ANU gave me an opportunity to explore new areas of law including refugee law, the law of international organisations and the law of armed conflict.
What do you hope to achieve – personally and professionally – through your fellowship at the ICJ?
I hope that working at the ICJ will sharpen my legal skills, including research and drafting, and improve my knowledge of different legal disciplines. I have been assigned to assist Judge Mohamed Bennouna with his work, which means I'll primarily be working in French. This will be a huge challenge for me, but is also an excellent opportunity to improve my legal French skills!
What are your long-term career goals?
The road of an international lawyer is usually a winding one, so for now I'm not planning too far ahead!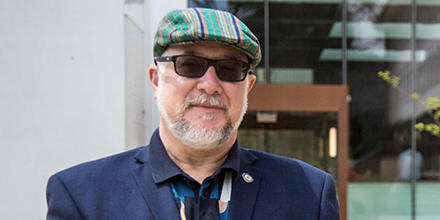 Zoran Iliev (JD)
Zoran Iliev is a forensic scientist and sessional lecturer at La Trobe University who began his Juris Doctor studies at ANU in 2019.
Why did you choose ANU, and why did you choose to study law?
There were a number of reasons. Obviously, I love the law. I have a background as a forensic scientist and through my work have been closely associated with the court system. There was naturally a lot of overlap (professionally), so I thought this program could help make me a better forensic examiner.
How would you describe your experience at the ANU College of Law?
I have really enjoyed my courses so far. I work and study full-time, but the balance has been great. I'm looking forward to exploring areas that are relevant to my work including criminal law and evidence law. As a lecturer, you measure everything and are constantly learning.
The academics here at ANU are very supportive and there is an obvious love for the law that comes across in their teaching. It means a lot, especially as a first-year student in the first semester, when you learn from academics who are passionate about what they teach and not just reading from slides.
What are your next steps, planned or aspired, after graduation?
I'd like to become a public prosecutor and maximise others' understanding of digital evidence in our legal system. That's one of the main reasons I chose to study my JD – seeing the huge gaps in understanding digital evidence and the application of that evidence, particularly by law enforcement. I hope to use my degree to gain a better understanding within the legal profession about the vast potential of digital evidence.