We spoke to Dr. Stanley Kowalski, a Clinical Professor of Law and Director of the International Technology Transfer Institute (ITTI) at the University of New Hampshire Franklin Pierce School of Law. The school is ranked in the top 5 for intellectual property and has been ranked in the top 10 for 28 consecutive years. Dr. Kowalski teaches, supervises, and mentors a diverse group of students on dynamic, interdisciplinary projects at the interface of intellectual property and international development.
Dear Dr. Kowalski, German Law Faculties usually do not have legal clinics. Could you please explain what they are?
American law school clinics provide students the opportunity to work with real clients on real cases. This provides them with the opportunity to apply the legal doctrines they learned in class to the real world.
We think clinics are essential for students. It allows them to practice what they've been learning. So, when they graduate, they are ready to practice as lawyers. Clinical professors, who are also expert attorneys, supervise their work. At UNH Franklin Pierce School of Law, our clinics focus on intellectual property, as well as a variety of civil and criminal cases.
We think clinics are one of the most important aspect of a student's education at UNH Franklin Pierce School of Law. That's why we encourage students to participate in the clinic experience.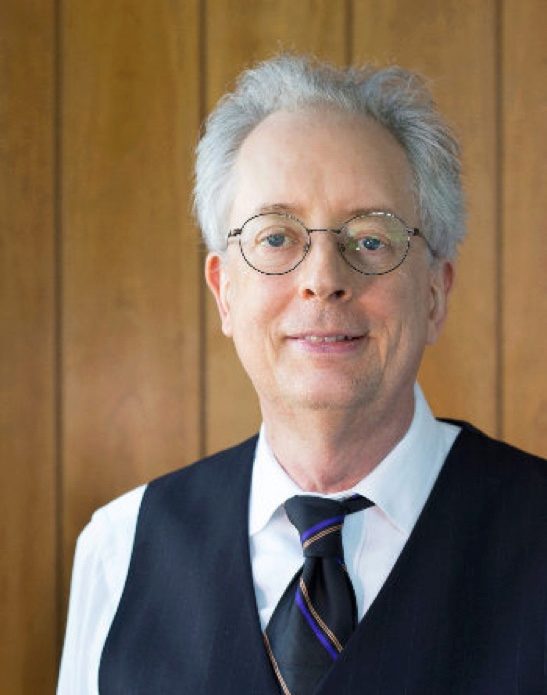 Dr. Kowalski of the University of New Hampshire Franklin Pierce School of Law
As a clinical professor, how do you interact with students? Would you recommend that German Universities introduce clinics as part of their curriculums?
Clinics help students transition from student to professional.
Clinical professors play a major role in this transition. We are there to mentor students and to give them feedback at every step. We see how they interview clients. We critique their written work and advise them before moot court and actual court appearances. But the feedback doesn't just come from us. We ask students to reflect on their own performances. We encourage them to share insights gained from each experience. The longer-term value of law school clinical programs is that they prepare students for practice, outside of the traditional classroom/examination paradigm, that is, they serve as a bridge facilitating the transition from student to professional; this is s crucial step and key for a career development and sustainable success. The learning, experience and confidence which legal clinical programs provide law students is universal and is applicable to any and all legal educational programs across the globe, including Germany.
---
There are many possibilities for law students to volunteer. Find out what works for you:
5 ways for law students to make the world a better place
Voluntary work for students - why work for free during your studies?
---
Who is the ideal clinic student? What courses do clinic students have to take in order to participate?
Students need to understand the basics of law and the basics of the specific law explored in the clinic. For example, a course in criminal law procedure and evidence might be prerequisites to participate in the criminal practice clinic. In addition, clinical programs frequently require students to take a course in professional and ethical responsibility, which is an essential component of a professional portfolio for practice.
Students should also be motivated and have a positive attitude.
Since the legal clinics resemble actual law practices, like law or consulting firms, students should be eager to work, diligent, and dedicated.

A beautiful aerial view of the UNH Franklin Pierce School of Law
Why should an international LL.M. student participate in your clinic experience?
As the director of the International Technology Transfer Institute (ITTI) Clinic, I want to point out that our program does not work directly with individual clients. That is, the ITTI Clinic promotes science, technology, and innovation in developing countries via collaborations with other organizations. We do this by building capacity and capability in intellectual prperty management, technology transfer (TT), and patent onformation access, assembly, and analysis
Clinical collaborators include world-class organizations, such as the United States Department of Commerce, the World Bank, the World Intellectual Property Organization, and the World Health Organization, with projects that focus on intellectual property, technology transfer and capacity building in developing countries.
The ITTI Clinic helps students build a broad range of professional and technical skills. International students and students with diverse backgrounds have participated in and contributed to ITTI Clinical projects. Teams of students include both JD, LL.M., and Master's degree candidates. As with all clinics, students learn professional skills that can help them advance their careers.
---
The University of New Hampshire Franklin Pierce School of Law is known for their top-10 Intellectual Property program. Find out more about the university here:
---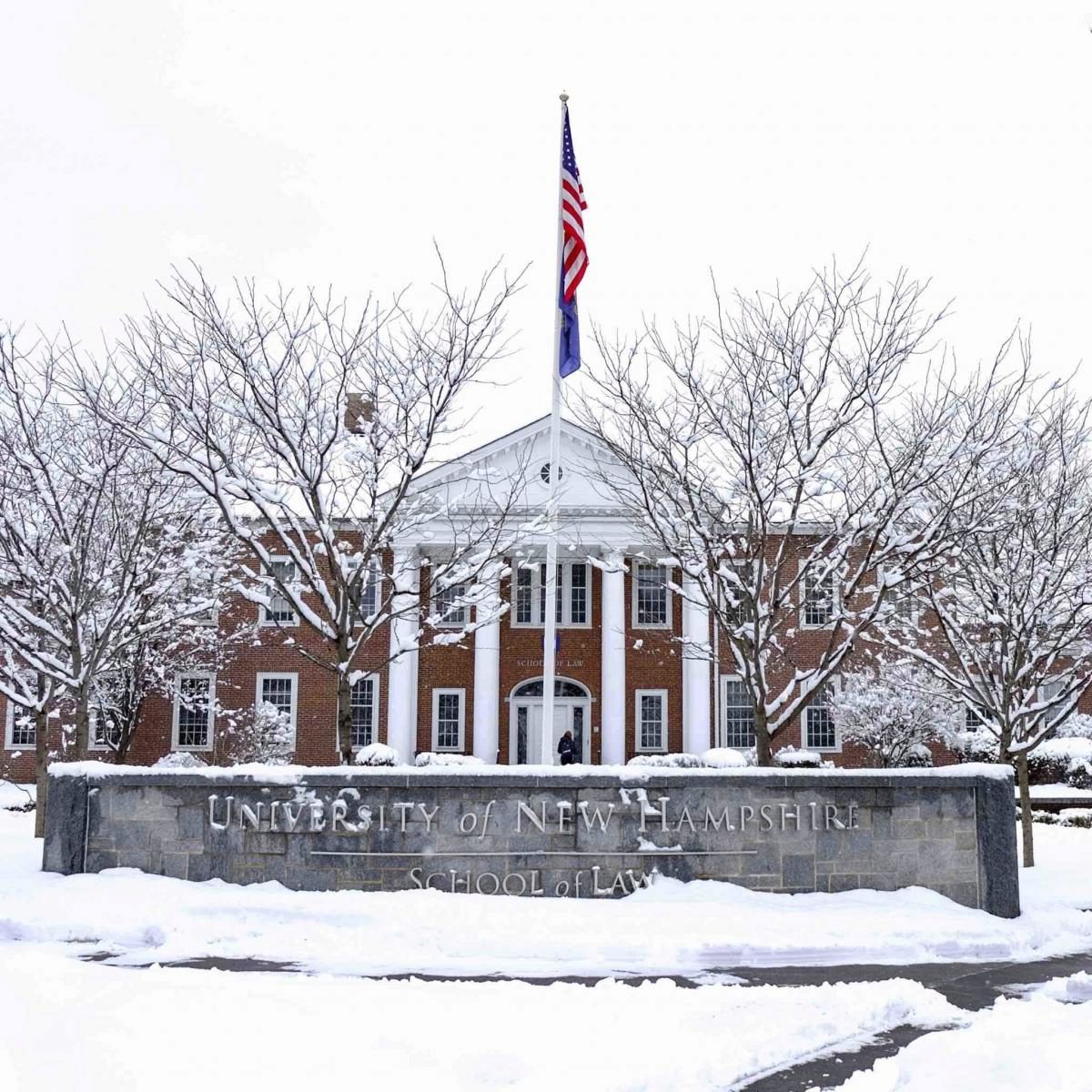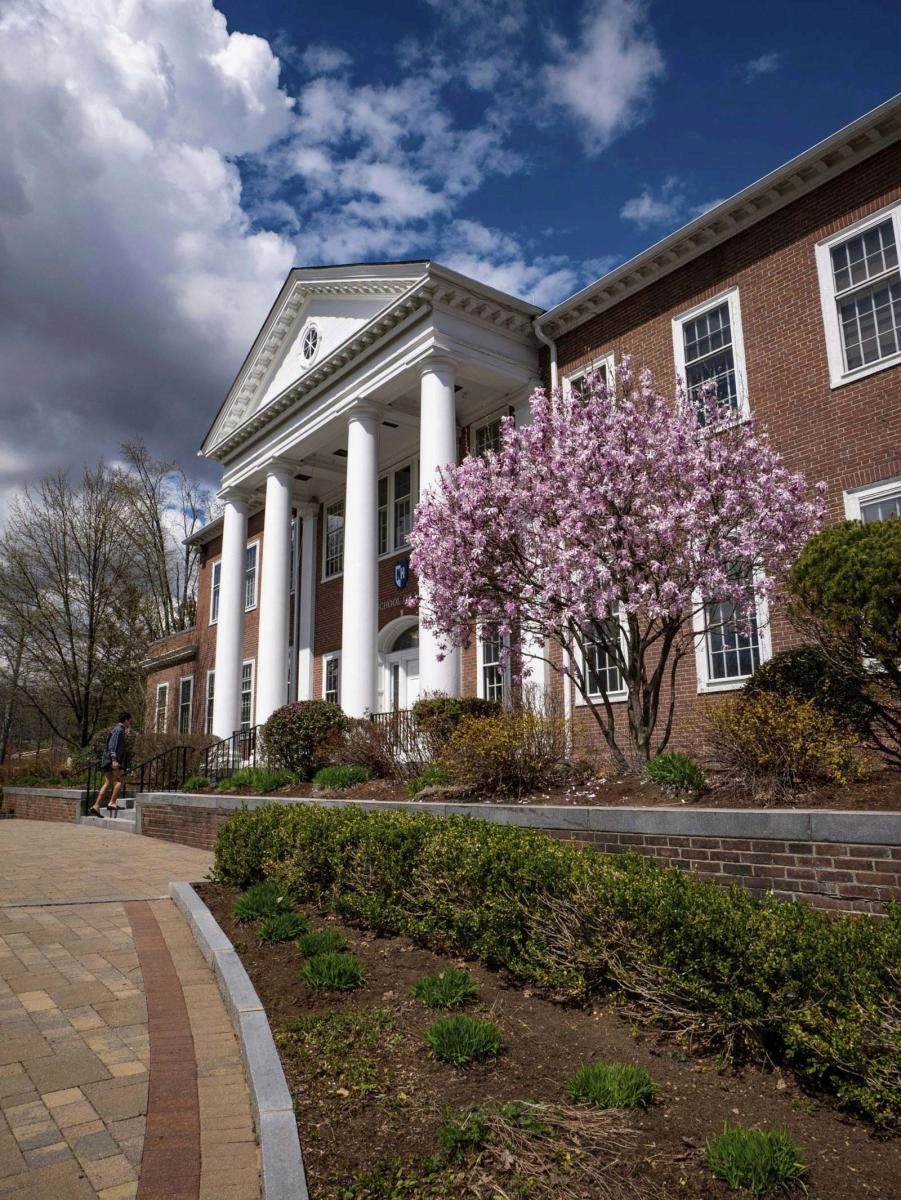 The UNH Franklin Pierce School of Law in winter and in spring
When taking part in a law clinic, to what extent do students participate in the cases? In your clinic, does your work extend beyond the university campus? Can you give an example?
ITTI Clinic projects are not, per se, "cases," but rather collaborative capacity-building initiatives. Several years ago, an ITTI Clinical project involved a dynamic collaboration with the World Intellectual Property Organization (WIPO) and the World Health Organization (WHO) to investigate the intellectual property (eg, patent) landscape of medicines deemed essential by the WHO; this was a priority since access to medicines in developing countries could be affected by patent status. This project required methodical analysis of medicines and their related patent documents, compilation of results, preparation of a report, coordinated collaboration with WIPO and WHO colleagues and, finally, the ITTI Clinic student team (which you can see at the top of the story with Dr. Francis Gurry, WIPO Director General from the event) presented a summary in Geneva Switzerland at the "Access to Medicines, Patent Information and Freedom to Operate Technical Symposium" (WHO, WIPO, WTO Trilateral Cooperation on Public Health, IP and Trade).
Dr. Kowalski, as the Director of the International Technology Transfer Institute, can you describe the types of projects you take on?
There are a range of projects. They include:
Working with IP / Technology Transfer professionals from developing countries to formulate strategies for building capacity towards sustainable Technology Transfer Offices (TTOs) that will serve as hubs for accelerating the development of globally-networked innovation ecosystems..
Contributing to education and capacity building to help establish relationships and future collaborations with colleagues from developing countries.
Working with key international and governmental entities to forge synergistic relationships.
Presentations at national and international professional meetings.
Preparation of the patent landscape reports.
Publications / scholarship.
---
Curious about what student life at the University of New Hampshire Franklin Pierce School of Law looks like?
Find out all about the location, leisure activities, housing, alumni community and more!
Visit our gallery for pictures and videos of the university, students, and professors!
---
The mission of your clinic is to advance science and technology in developing countries. Which major challenges are you facing while chasing this goal?
There is a persistent underappreciation and lack of understanding of the importance of diversification of economies in developing countries, from what has been the primary focus (in many regards a post-colonial system) on manufacturing, mining, agriculture and commodities ... toward science, technology and innovation. This ignorance includes generalized and widespread lack of knowledge regarding the role and importance of building intellectual property management and technology transfer systems in developing countries in order to accelerate economic diversification.
Therefore, the ITTI Program hopes to both teach and advocate for a greater understanding of and investment in intellectual property capacity building in in developing countries. We want to help all stakeholders, including the governments of developing countries, leaders of international organizations, as well as other foundations and government agencies.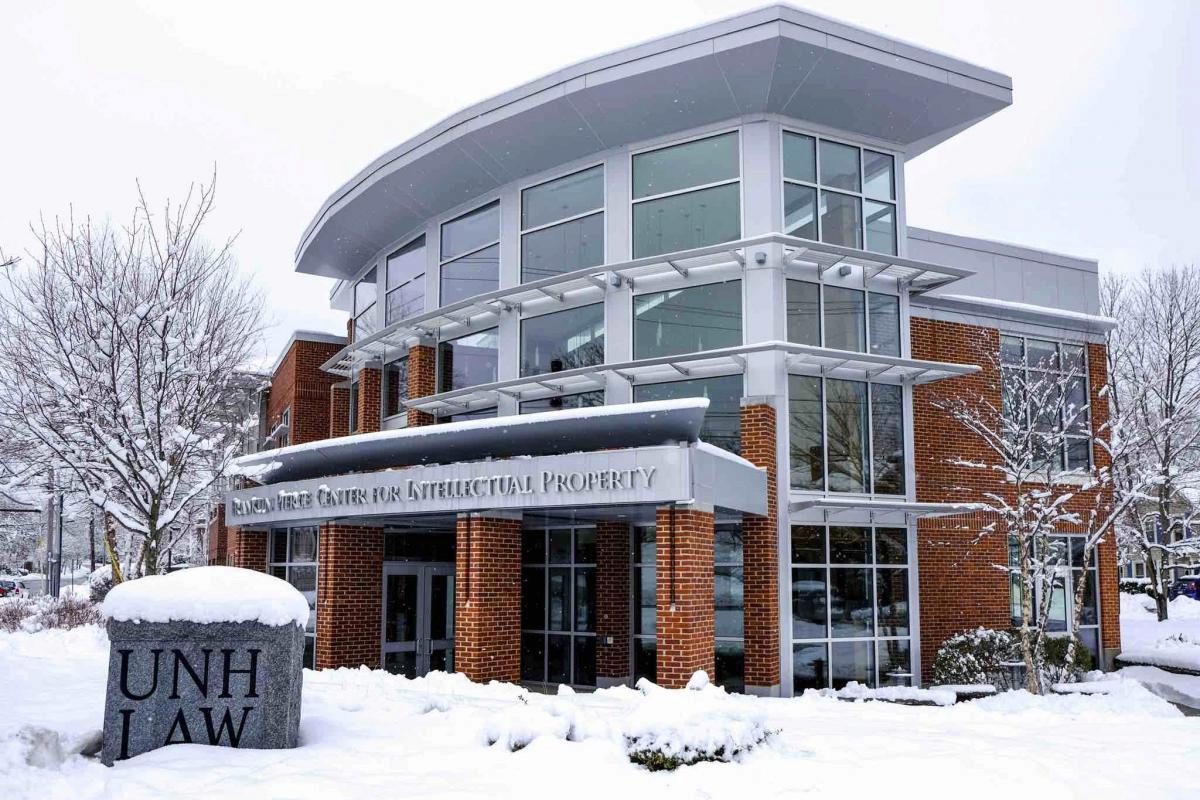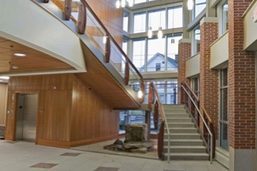 The IP Center at the UNH Franklin Pierce School of Law
Within developing countries, is there a region or country you prefer to work with?
The ITTI Program has worked in countries across the globe. This is primarily driven by the trilateral collaborative project model of ITTI - Developing Country - International Organization or Government Agency. To illustrate, ITTI - Algeria - US Department of Commerce (Commercial Law Development Program, "CLDP"), or ITTI - Argentina - World Intellectual Property Organization (WIPO, a specialized agency of the UN). ITTI has endeavored to advance its principled mission across the globe: Algeria, Armenia, Argentina, Colombia, Philippines, South Africa, Sri Lanka and Zimbabwe.
Personally, what is the most notable project or case dealt with as the Director of the International Technology Transfer Institute?
The ITTI program in Algeria (in collaboration with CLDP) has perhaps been most meaningful. IT addresses several crucial issues regarding economic diversification, knowledge-based development, and advocacy capacity building, and advancing capability in intellectual property management and technology transfer. The proximity of Algeria to Europe further illustrates the importance of advancing innovation-based development.
---
Working in IP law means challenging yourself every day
Find out about the latest IP jobs and internships here!
---
You have a law degree (a J.D.), but you also studied Biology and Applied Horticulture. You also have a Ph.D. in Plant Genetics. Should IP students have scientific knowledge in other fields? Is it a condition sine qua non?
IP students don't need a scientific background. The field is quite diverse. For example, copyright and trademark law do not require either scientific, engineering or technical backgrounds, but patent practice most often does.
You worked as a researcher for 20 years. Why did you transfer to international development work?
I was always interested in international development.
My earliest motivation to study agriculture and plant breeding was the Green Revolution of the 1950s and 1960s, which forestalled widespread famine in Asia.
As I progressed through my life as a research biochemist and geneticist in agriculture, I realized that intellectual property and technology transfer were becoming principal factors in a global system of innovation and development, including technologies addressing agriculture and food security.
---
Are you considering doing LL.M? Check out all our partner law schools and their programs
---
Do you have any experience working with German companies or researchers?
Yes, I have had the pleasure to work with German scientists, researchers, and IP professionals throughout my career, including German speaking colleagues from Switzerland, Namibia and the Czech Republic. In addition, I had a minor concentration in German as an undergraduate. Working with German colleagues allows me to practice my (rusty) German.
In every single case, it has been a rewarding experience and a definite plus for both my career and personal development.
The world of IP is constantly changing. How do you stay current?
I consult with my colleagues, attend seminars, read various journals and, perhaps not surprisingly, listen to my students; they are often better informed than anyone else.
With the Belt and Road Initiative we're seeing the greatest global exchange of resources, knowledge, and people initiated by China. Do you expect more global initiatives like this? How will IP law and technology transfer play a part in these types of programs?
Whereas the Belt and Road Initiative has been initiated by and largely driven by one country, international technology transfer and IP law in the context of global development will require a far more balanced multi-lateral initiative, in that the foundation for a global knowledge-based economic order, i.e., an innovation ecosystem will be human capital … which is omnipresent in every country and still largely untapped as to its full potential. For example, imagine the vast intellectual capital which is underutilized in Africa – particularly that of women.
The ITTI is a legal clinic at the University of New Hampshire Franklin Pierce School of Law. The school has been ranked among the Top 10 for its IP law program in the US for nearly 30 years. Why is the program so highly rated?
The Franklin Pierce School of Law at the University of New Hampshire has been a top ranked IP program for several reasons. First, it has a long history, and indeed tradition, of teaching both IP law and practice to professionals around the world. Our reputation is globally recognized. Second, the program draws world renowned IP faculty. Third, the school not only has the largest full-time faculty in intellectual property law, but also the largest IP library in the Western Hemisphere, making the school a great resource to students and organizations who need IP information and guidance. And finally, the curriculum is rigorous and spans the many areas of IP, from copyright to trademark to patent law, and much more.
Our clinical programs bolster the program by bridging the gap between learning law and practicing law. UNH Franklin Pierce School of Law is one of the leaders in intellectual property law and we look forward to welcoming our next class of students.
Thank you very much Dr. Kowalski!
*sponsored
---
Keep reading: